AO-I-1064 infrared Laser for Laser Marking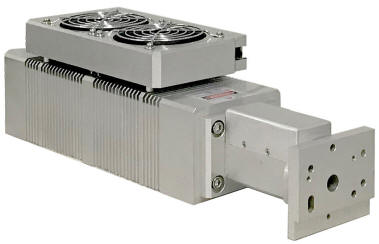 Features
Average power 1-20W with air cooled.

1~200kHz wide repetition frequency range and high marking effciency

With first pulse suppression function, suitable for sensitive materials
Application
For various kinds of translucent button marking

Surface treatment of composite materials

Fine marking of metals and nonmetals
Specifications
| | |
| --- | --- |
| Wavelength (nm) | 1064±1 |
| Work pattern | Q-switched |
| Model | AO-I-1064 |
| Average output power (W) | 1-20 |
| Single pulse energy (µJ) | 1-600 |
| Pulse width (ns) | <25ns@30kHz, <35ns@50kHz, <50ns@100kHz, <75ns@200kHz |
| Peak power (kW) | ~30kW |
| Pulse repetition rate (kHz) | 1~200kHz (can be adjust by external control) |
| Power stability (rms, over 8 hours) | <1%, <3%, <5% |
| Warm-up time (minutes) | <10 |
| Beam divergence, full angle (mrad) | <1.0mrad |
| Beam diameter at aperture (mm) | ~4. 0mm |
| Beam height from base plate (mm) | 113mm |
| Operating Temp. (℃) | 15~35℃ |
| Cooling-down method | Air-cooled |
| Laser head size | 460.5(L)×103(W) ×120.4(H) mm3 |
| Power supply (220/110VAC) | PSU-AOM power supply 320(L) ×302(W) ×137 (H) mm3 |
| Expected lifetime (hours) | 20000 |
| Warranty | 1 year |
| Pilot light | 5mW @650nm |
Application field
Silicone light transmission button:
Silica gel material is sensitive to thermal effect and pulse intensity, and any minor parameter changes will have an impact on the product effect. Ao-i-1064 series laser adopts the leading technology of active Q adjustment, which can achieve fine micro-effect adjustment by adjusting the pulse width and repetition frequency, and fully control the marking effect.
Plastic light transmission button:
Plastic pervious to light material generally use EVA (ethylene/vinyl acetate copolymer) materials, and covered on the surface coating, AO - I - 1064 series products especially for a lot of experiment on this material, for different thickness and composition of the coating, you can find the perfect engraving parameters, be clear on clean remove table color, background, to provide customers with complete product solutions.